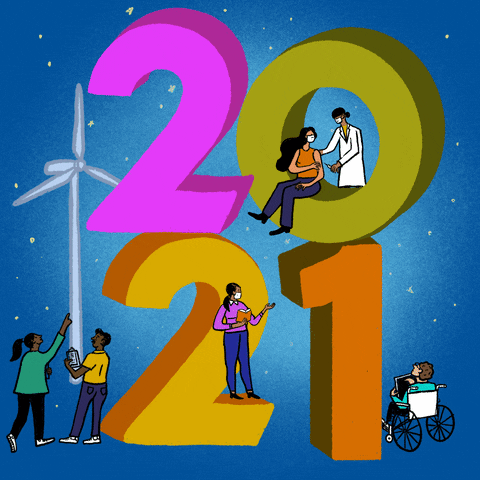 ¡Feliz año nuevo! Welcome 2021!
I really like this meme!!! It's inclusive and pays homage to Coronavirus, people of color and the disabled. I found it under the Facebook gifs.
By Wednesday of every week, I am very tired. My work week as a Spanish speaking case investigator begins on Saturdays and ends on Wednesdays, during December I've taken on 12 hour shifts on Mondays and Tuesdays. Wednesday, I am done. My schedule will be changing for the new year, and that is very good.
Getting organized for me is a constant struggle. Despite my best efforts over years and years of dealing with procrastination, it's one of my worst traits. I recently read that procrastination is variously described as harmful, innocuous, or even beneficial.
Two longitudinal studies examined procrastination among students. Procrastinators reported lower stress and less illness than non-procrastinators early on, but they reported higher stress and more illness late in the term, and overall they were sicker. Procrastinators also received lower grades on all assignments.
Procrastination thus appears to be a self-defeating behavior pattern marked by short-term benefits and long-term costs.
(Taken from abstract located at https://journals.sagepub.com/doi/abs/10.1111/j.1467-9280.1997.tb00460.x)
Therefore, 2021 will be a time when I face my fears including the many projects that have been languishing in different piles around my house. I'm going to try not to think of myself procrastinating. Instead, I will pay respect to each pile and project. The time spent will be a mini-adventure where I am the conqueror of the desire to PUT IF OFF.
I hope this works for me.